Santa Maria High School
Class Of 1959
In Memory
Dave Goodman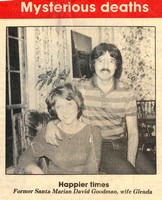 Mysterious Death - Dallas Texas - Nov. 1990
A prosecutor investigating the deaths of eight followers of a housewife-turned-guru over the last 12 years is trying to piece together a criminal case with a hard-to-prove premise: that beliefs can kill.
Four followers of mystical leader Terri Hoffman have committed suicide, including two of her four husbands, and two died in apparent accidents. Of those six, two told relatives they suffered from terminal illnesses, although autopsies showed they did not, and at least four bequethed money and property to Ms. Hoffman. Then in November, police linked the deaths of an investment counselor and his wife to Ms. Hoffman's pastiche of philosophy, ancient mythology and metaphysics.
David and Glenda Goodman were found shot to death in their den, two handguns beside them on the floor. On a desk a few feet away lay two purple spiral-bound notebooks in which they recorded their devotion to Ms. Hoffman. In 1974 Ms. Hoffman founded Conscious Development of Body, Mind & Soul Inc. David Goodman became one of her followers in the early 70's. He met Ms. Hoffman at Dallas' Southern Methodist University, where he was a business professor and she was teaching a meditation class.
David excelled in academics at Santa Maria High School and earned a doctorate in business from Yale University. Eventually he settled in Dallas to take a teaching post at Southern Methodist University. It was here he first came in contact with Terri Hoffman and her mystical powers. Five years ago David married his fourth wife, Glenda, who would suffer the same fate as David in November of 1990.