Santa Maria High School
Class Of 1959
In Memory
Harriet Smith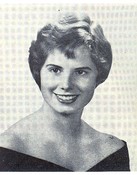 A memorial service to celebrate the life of Harriet Smith, 56, was held at Clairmont Emmanuel Baptist Church on April 30, 1999.
Harriet Smith passed away peacefully at San Diego Hospice on April 27, 1999.
She was born on March 23, 1941, in Santa Maria. She was the daughter of Judge Marion and Kate Blasingame Smith. A fourth generation California, she attended Santa Maria schools, graduating from Santa Maria High School in 1959. She graduated from Occidental College in 1963 and moved to San Diego in 1966. There, she obtained her Masters Degree in Special Education from SDSU and taught at Standley Middle School and Horizon elementary School. She was a past member of Junior League, Speech and Hearing Auxilliary, ECHO, and was a facilitator for Chatsworth Adult Center in Point Loma. She was a Bible Leader in forest Home Women's Auxiliary and Women's neighborhood bible Studies.
Survivors include her husband r. John C. Holman III; children Katie Copeland and Matt Copeland and stepchildren, Karen Kerr, Scott Holman. She leaves numerous family and friends.