Santa Maria High School
Class Of 1959
In Memory
Roy Hocknell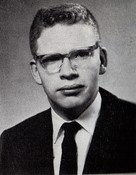 Roy Anthony Hocknell, 60, of Santa Maria, passed away at his home on Friday, October 26, 2001. Born November 27, 1940 in Santa Maria at Sister's Hospital. Roy graduated from Santa Maria High School in 1959. He attended Allan Hancock College and U.C. at Berkley. He served in the U. S. Army from 1963 to 1965 and was stationed in Germany for a short time.
His employment included Helical Products where he was a Quality control Inspector and Cirrus Environmental where he was a Laboratory Analyst. Roy was interested in the sciences and was an extremely well-read man. He spent time at local libraries where he researched many topics for his scientific journals including Physics, Mathematics,, and Chemistry. He was alsoan avid environmentalist and supported various environmental causes.
He is survived by three brothers: Patrick, James and thomas Hocknell all of Santa Maria. In lieu of flowers, donations were requested to be sent to the American Heart Association.