Santa Maria High School
Class Of 1959
In Memory
Johnny Gudgel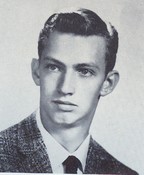 John B. Gudgel, 62, of Salinas, died Monday, February 16, 2004. Memorial services will be held at 1 p.m. Saturday, February 29, 2004, at the Sanctuary Christian Fellowship, 345 E. Alvin Drive, Salinas.
John was born July 10, 1941 in Indianapolis, Indiana. He lived in Salinas for 27 years. A graduate from Cal Poly, SanLuis Obispo with a degree in soil science, he dedicated his life to agricultue. He had recently retired from Santa Maria Seeds.
He is survived by his wife of 44 years, Mona (Buchert) Gudgel; daughter, Shannon Sanchez of Salinas; son, Joe Gudgel of Salinas; and grandchildren.