Santa Maria High School
Class Of 1959
In Memory
Don Rogers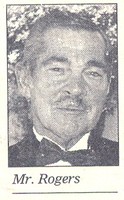 Don Robert Rogers of Santa Maria died unexpectedly on Saturday, July 6, 2002. Don was born on January 12, 1942 in Bakersfield, California. He was the oldest of four children. At the age of 15 his family moved to Santa Maria where he attended Santa Maria High School. He entered the United states Navy in 1959 and served on the USS Ranger until his discharge in January 1964. He married and returned to Santa Maria later that year. He joined the California Highway Patrol in January 1968 as a Traffic Officer, and served as the Union Area Representative. He continued his career until 1990.
After retiring from the Highway Patrol, Don fulfilled his lifelong passion by becoming a machinist and full-time gunsmith. He was well known for his love of Black Powder rifles and shooting Black Powder Cartridge Silhouettes. He and Judy traveled throughout California for various matches but especially to Raton, New Mexico for the National Black Powder Cartridge Silhouette match held every August.
Don revived the Avenal Gun Club in 1997 by starting a Black Powder Cartridge Silhouette shoot held monthly. He was instrumental in the renovation of the Gun Club. He thoroughly enjoyed these weekends with family and friends and was well known for his enthusiasm for the sport. Don published an article for Rifle magazine in April 1993. He was a member of the National Rifle Association. What began as a hobby, became a fascination with Don's great love of computers. He was a self-taught technical wizard at building many computers for family and friends. He kept us all "online". He is survived by his wife July rogers of Santa Maria, his parents Farris and Yvonne Rogers of Santa Maria, and numerous family members.