Santa Maria High School
Class Of 1959
In Memory
Jerry Williams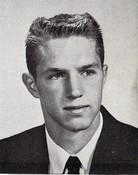 Gerald F. Williams was born in Santa Maria on September 29, 1941. He was an excellent athlete is entire life. He played Little League, Middle League, and after graduating from St. Mary's School, played Varsity football and baseball for four years at Santa Maria High School. He was one of the most out-standing athletes ever to graduate in the class of '59.
Jerry attended California State Polytechnic College in San Luis Obispo from 1959 to 1961. He played both Varsity football and baseball. He was one of the survivors of the tragic air accident of the Cal Poly team in 1960.
He was rough and gruff but had a heart as big as the surf. Jerry was a rancher, cattle broker, and totally successful businessman. He was a member of the Santa Barbara County Cattlemen's Association, a 30-year member of Rancheros Vistadores and Camp Captain of the Charros Camp, an Elks Lodge 1538 member, and a Committee member for 20 years and Chairman for 10 years of the Old Spanish Days Fiesta, Santa Barbara. He was an avid sportsman, hunter and fisherman, and realistic conservationist. He was active in many agricultural conservation efforts.
He was preceded in death by his father Edmund and mother Margaret Williams. He was fourth generation California. His maternal grandparents, the Winemans, settled in San Luis Obispo county in the mid-1800's as cattle and sheep ranchers. His paternal family, also fourth generation Californians, were also ranchers and farmers.
Jerry is survived by his brother robert Williams and sisters Sheryll Mineti and Ernie May Campodonico. His wife Nancy Cornelius Williams, who he was married to for 40 years, and three sons rodney, Jerry jr., and John (JP) Williams and seven grandchildren who were the light of his life.