Santa Maria High School
Class Of 1959
In Memory
Harley Williams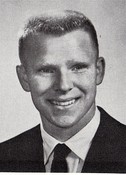 IN LOVING MEMORY OF
Harley (Red) Larue Williams
August 13, 1940 - January 5, 2012
Harley L. Williams was born on August 13, 1940 in Santa Barbara, Ca. His friends knew him as "Red". His death was completely unexpected; Passing peacefully at home in his favorite chair. Harley was a very loving, generous, kind and tender hearted person who loved our Father God above all else. He made everyone he knew feel welcome and never knew a stranger. Harley could always be counted on and would do just about anything for anyone. He had a great sense of humor and always had a hug, handshake and encouraging word for everyone. His daughter, Rebecca meant the world to him and it's sure that he never meant to leave her or this life so soon although he was more than ready for Heaven and had no fear of "going".
Harley graduated from Santa Maria High and soon after enlisted in the
Army
National Guard and was part of the historic Watts Riot. He was raised in Casitas Springs, Ca by Paul and Luella Longbrake and loved reminiscing about those days. He worked construction building tanks in our local "Oil Fields". He loved the Rams, his 57 Chevy and he loved his Pals. Harley was a happy man with a funny sense of humor. He had a kind word for everyone. He left everyone he touched feeling warm and loved.
We could go on and on about all of the happy memories he has left us with but, there isn't enough room in this paper to do that so, please join us at Dudley Hoffman Mortuary on Thursday, January 12th, 2012 at 1 P.M. to Celebrate the life of Harley Larue Williams!
We love you Harley, I love you Daddy and you will be deeply missed. Although our hearts are broken now we know where you are and are lucky to have an Angel like you looking out for us!
Arrangements are under the direction of Dudley-Hoffman Mortuary, Crematory and Memory Gardens.
Published in Santa Maria Times on January 10, 2012