Santa Maria High School
Class Of 1959
In Memory
Myrna Twitchell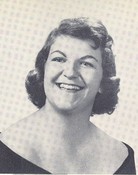 Myrna L. Twitchell
Myrna L. Twitchell , age 69, died 01/23/2011 at Marian Hospital, Santa Maria , Ca .
A graveside service is planned for 2:00 pm on Thursday, January 27, 2011 at the Santa Maria Cemetery, with Dr. Charles N. Gibbs officiating. Her request was to be buried next to her parents in the old section of the Cemetery.
Myrna Twitchell, a loving sister, aunt and great aunt was born on August 10, 1941 in Santa Maria, California. She graduated from Santa Maria High School in 1959. She worked for General Telephone Company for 30 years and loved her SURPLUS!
She enjoyed family outings to parks and beaches cross country trips and going out to eat with her family, by way of back roads, bumpy roads, dirt roads, railroad tracks, you name it! She was a great cook whose pies will be missed!
She was preceded in death by her father James Dean Twitchell, mother Merle Opal Brickey Twitchell Fouts, sister Janice Faye Twitchell Dugger, infant nephew Lee Andow Dugger and niece Stefanie Gayle Twitchell.
Myrna is survived by her brother John Twitchell (Elaine), her nieces and nephews Dorman DeHass, Roy Dugger(Ann Munns), Mark Dugger (Xaio), Shirley Bouzard (Dennis), Kerry Twitchell McCoy, Cliff Dugger (Sherri) Dena Zepeda (Sergio), James Twitchell (Stacy), Ward Dugger (Sidney), John Dugger (Melinda), great nieces and nephews, Jacob and Christopher Bouzard, Shelby and Kyle Dugger, Allie, Anthony and Nicholas Zepeda, Chloe and Garrison Twitchell, Madelyn Sweepe, Madisyn and Garrett Dugger.