Santa Maria High School
Class Of 1959
In Memory
Gail Ann Harding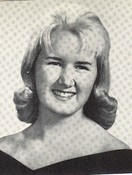 A scripture service was held on Saturday, April 22, 2000 for Gail Duckworth-Everling, 58, Battle Creek, Michigan in the Chapel of the Dudley-Hoffman Mortuary with Deacon Robert Maciel of St. Louis de Montfort Catholic Church officiating.
Gail Duckworth-Everling died April 15, 2000, at Borgess Medical Center, Kalamazoo, Michigan.
She was born October 18, 1941, in Arroyo Grande and was raised in Santa Maria and graduated from Santa Maria High School in 1959. Gail was employed in the medical profession before moving to Battle Creek in 1991, where she most recently was employed with Associate Internal Medical Group, leading to over 40 years in the field. Gail had a passion for interior design and loved being with family and her many friends.
Gail was survived by her husband Lynn Everling, and three sons, Sham, Jerry and Justin Duckworth and her father, Melvin Harding,. brother Mel Harding and sister Linda Harding.