Santa Maria High School
Class Of 1959
In Memory
Warren Paige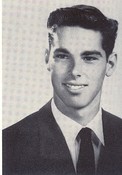 Memorial services were held on Friday, march 17, 2000, for Warren Anthony (Skiip) Paige, 58, of Santa Maria, at the Dudley-Hoffman Mortuary Chapel. Fr. Tom Elewaut of St. Joseph High School officiated. A private inurnment followed at Santa Maria Cemetery.
Skip died suddenly, Saturday, March 11, 2000, at his residence following a lengthy illness. He was born December 11, 1941, in Santa Maria. He graduated from Santa Maria High School in 1959. He attended Allan Hancock College and then received his Bachelor of Science of Sociology from Cal State University Northridge in 1966 and his Masters of Arts in Education with a specialty in Counseling and Guidance from California Polytechnic University in 1977.
He worked with both juveniles and adults over the years as a Senior Probation Officer for the County of Santa Barbara. Skip's work was recognized with numerous awards throughout his 27 year career. He retired in 1991.
Skip served in the Army national Guard at Camp Roberts i n California for over two years following his high school graduation. He married his high school sweetheart, Pamela Hopkins, on September 4, 1965. She taught grammar school in Santa Maria at William Hickman Rice Elementary and received the Teacher of the Year Award. They enjoyed many years of camping, boating and skiing at their Nacimiento and Lake Tahoe cabins with their two sons Brandon and Blaine.
Skip was preceded in death by his wife of 25 years, Pamela Paige, on May 16, 1990. Also preceding him in death were his parents, Clark and Maxine Paige. He is survived by his sons, Brandon and Blaine Paige and numerous family and friends. Memorial contributions were made to the national Multiple Sclerosis Society Channel Island Chapter.