Santa Maria High School
Class Of 1959
In Memory
Ronnie Miller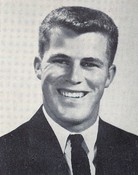 Funeral services were held in the Magner Funeral Home for Ronald Miller, 26, a native of Santa Maria who was killed in an industrial accident in Willows on Monday.
Mr. Miller was born april 14, 1940 in Santa Maria. He attended Santa Maria schools and graduated from Santa Maria High School in 1959. He attended Allan Hancock College for one year. He lived in the Oroville-Willows area for the past two years.
He is survived by his wife Joyce Miller of Oroville and his son Steven,: his parents, Mr. and Mrs. Carl Miller of 284 Foster Road in Santa Maria, a brother Melvin Miller and a sister Mrs. Adeline Cruse.
RONNY PASSED ON 11-21-66, HE HAD A ELECTICAL CONTACT WHILE WORKING ON A 12 KV LINE IN WILLOWS, CA.