Santa Maria High School
Class Of 1959
In Memory
Mike Malone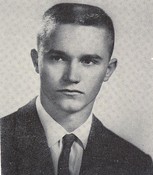 Michael L. Malone, a resident of Nipomo for over 17 years, was born in Santa Maria in November 1940 to Jack and Winifred Malone. He passed away Thursday, Oct. 9, at Marian Hospital following a hard fought battle with cancer. He attended St. Mary's School and graduated from Santa Maria High School with the Class of 1959. In1963, Mike graduated from Cal Poly with a degree in Agricultural Business Management. He worked with the County of San Luis Obispo in the Assessor's Office and went on to become a well respected, private Real Estate Appraiser with offices in Arroyo Grande.
Mike and Betty celebrated their 96th (total) wedding anniversary in March and April of this year. Mike was survived by Shon (Gigi) Malone of Houston, Patricia (Ken) Combs of Santa Maria and Timothy Malone of Santa Barbara. He is also survived by 6 grandchildren, 1 great-granddaughter, and two sisters, Ann Battinich, Chico, and Clancy (Greg) Deitrich, Santa Maria.
Mike was active as a real estate appraiser for over 45 years. During that time, he was a member of the Society of Real Estate Appraisers and served several terms as president of the local association. He was an active member of the Santa Maria Country Club for over 20 years, serving two terms on the board of directors. Mike was an excellent golfer and enjoyed many golf trips to Hawaii, Canada, Oregon and throughout California with his golfing buddies, both male and female. Among his memories was winning the President's Cup at the Country Club in 2001.
Mike will be truly missed by us all.