Santa Maria High School
Class Of 1959
In Memory
Jim Luis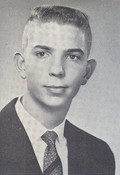 James "Jim" L. Luis
12/30/41 to 1/8/17
Many of us lost a shining light in our lives when sadly, Jim passed away after a valiant battle with multiple medical issues. Born in Santa Maria, CA, to Cerfee J. and Anita P. (Skaarup) Luis, Jim joined older brothers Richard (Dick/Richie) C. and Jerold (Jerry) R. As a teenager, he could often be found working at the family-owned business, Orcutt Mercantile. A graduate of Santa Maria High School, Jim went on to Cal Poly SLO where he graduated in 1964 with a B.S. in business. He pursued a career as a controller for various real estate companies, most notably Atlantic & Pacific Building Corp., owned by Stuart Bartleson and Larkin Minor. He married Ruth Ann Pettit of S.M. and together they had three sons, Robert J., Ronald P. and Rodney Dean. When A & P opened an office in No. California, Jim and his family relocated. Jim and Ruth Ann later divorced and he and a partner created C & L Development, building subdivisions in Healdsburg and Willits. In 1976, he married Sue (Azevedo) Jamieson and they settled in Healdsburg. The couple later moved to Clements to follow Jim's lifelong dream of owning a horse ranch and competitively showing cutting horses. Though Jim always remained a cowboy at heart, in the late 80's, it was on to SM to join his brothers in the car business at Iversen's. Eventually, the three brothers and a partner opened Honey Mazda in Shingle Springs, CA, and the couple moved to Cameron Park. Jim later went on to wholesale cars on his own, before completely retiring in 2006.
First and foremost, Jim loved his family (including his 4 legged best buddy, Fozzy) and friends. He loved fishing in Alaska and on the Klamath, Smith and Chetco Rivers, with brother, Jerry. He also loved deer hunting, trapshooting, molasses chips, golf, the movie "Arthur," and his favorite chocolate cake. He loved Lucky Strikes and scotch and water in a "bucket," until quitting both cold turkey several years ago. He was a former member of Cameron Park Country Club where he made many lifelong friends.
Jim was predeceased by his parents, brother, Richard and nephew, Barry. He is survived by his wife of 40 years, Sue, of Cameron Park; his brother Jerry (Delores) of SM; his three sons, Rob (Michelle) and their sons Carter, J.T. and Shaun, all of Rohnert Park; Ron and children Dante, Chloe and Meadow of Greenbrae; Dean and his youngest daughter, Aileana, both of Sacramento and oldest daughter, Indy (Kyle) Monday of Santa Rosa. Also survived by nieces Jody (Dave) Kennison of SM, Dr. Doreen Luis of Augusta, GA, Lisa Ann Luis of SM and nephew, Mark Luis of Buellton. Survived also by Ann Luis of SM, Tammy, Danielle and Nick (Kristin) Luis all of Orcutt.
Graveside services were held at the Santa Maria Cemetery, 1501 S. College Dr., SM, on Friday, January 27th at 2:00 pm. In lieu of flowers, the family asks that you be inspired to perform a random acts of kindness in Jim's memory or donations may be made to Oasis Senior Center, PO Box 2637, Orcutt, CA 93457.