Santa Maria High School
Class Of 1959
In Memory
Ronald Diaz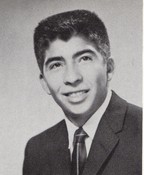 Ronald F. Diaz, 46, of Arroyo Grande died Saturday near Fresno as the result of an automobile accident. Mass of Christian burial will be celebrated at 9 a.m. Friday at St. Mary of the Assumption Catholic Church. Monsignor James Colberg and Fr. Dennis Mongrain will officiate. Burial will follow in the Santa Maria Cemetary.
Ronald (Ron) Diaz was born in Santa Maria. He was a 1959 graduate of Santa Maria High School and a 1961 graduate of Hancock College. He also graduated from Cal Poly. He was a veteran of the U.S. Army during the Vietnam War, serving from 1955 to 1968. He worked for PG&E for 20 years as a senior field engineer at Diablo Canyon and Shaver Lake. He was a member of the National Rifle Association and was an avid golfer.
Survivors include his parents, Joe and Emma Diaz, brothers Joe and Mark, sisters, Rose Terrones, Gloria Amarillas, and Teresa Jimenez. Ron is also survived by many firends and relatives.