Santa Maria High School
Class Of 1959
In Memory
Vaughn Black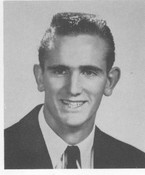 A memorial service was held on Dec. 5, 1999, at his home in Simi Valley for Vaughn H. Black, Jr. 59, with Chaplain Peckham officiating. At Mr. Black's request cremation has taken place and private inurnment will be at a later date.
Mr. Black died Dec. 2, 1999 of complications at Simi Valley Hospital. He was born in Santa Maria and attended local schools, graduating from Santa Maria High School in 1959, where he participated in field and track and basketball. Upon graduation he was employed with GTE for 34 years until he retired. He then went to work for Fujitsu in Ontario, Calif. until his death. He enjoyed coaching soccer, bowling, fishing and playing horseshoes.
He is survived by his first wife Marti Black, of Reno, Nevada. and children Robert Black of Oxnard. Debra Decker of Indiana, Robin Carson of Indiana; 7 grandchildren; his present wife Anita Black and her children, Kimberly, Melissa, Robert and Taylor Hamic of Simi Valley; sisters Carol Anderson of Florida and Susan Mack of Orcutt.