Santa Maria High School
Class Of 1959
In Memory
Barry Acosta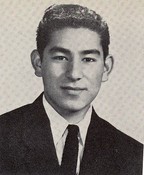 Baron (Barry) P. Acosta, 49, of Santa Maria, died suddenly tuesday in a local hospital. Mass will be celebrated at 9 a.m. Saturday at St. Mary of the Assumption Catholic Church. Burial will be held at 1:30 p.m. Saturday at Conejo Mountain Memorial Park, Camarillo.
Mr. Acosta was born in Denver, Colorado and moved to Santa Maria at the age of 9. He graduated from Santa Maria High School. He entered the U.S.A Air Force and had been employed with the U.S. Postal Service as a letter carrier since his discharge. He attended Hancock College and was an avid golfer.
He was survived by his daughters Linda S. Prescott, , Elizabeth v. and Renee M. Acosta, and Dianna K. Holden. Son, Mike P. Peters. His father, Albert Acosta of Camarillo and six grandchildren.